PC Gaming riggs/GPUs
RTX 2080TI
ut a graphics card on the market without saying anything about its performance and delivering only part of its characteristics ... it was necessary to dare. NVIDIA did it. Faced with criticism, the manufacturer delivers some numbers necessarily positive, pending the first tests. A few days ago , NVIDIA raised the veil on its new power monsters: the GeForce RTX 2070 that will arrive in October, as well as the GeForce RTX 2080 and 2080 Ti, expected for September 20. All between 600 and 1300 euros .
RTX 2080
The MSI GeForce RTX 2080 Sea Hawk EK X graphics card features a 1515MHz base clock with a 1860MHz boost clock, 8GB 256-bit GDDR6 memory, PCI-E 3.0, 2944 CUDA cores, High Performance Full Cover Water Block, RGB Mystic Lighting, Premium matte backplate featuring the famous MSI dragon, OpenGL 4.5 support, DirectX 12 support, 3x DisplayPort 1.4, HDMI 2.0b and USB Type-C support. Backed by a 3 year MSI warranty.
RTX 2070
The ASUS GeForce RTX 2070 Gaming OC graphics card features 1410MHz base clock with a 1845MHz boost clock in OC mode, 8GB 256-bit GDDR6 memory, PCI-E 3.0, 2304 CUDA cores, OpenGL 4.5 support, DirectX 12 support, HDMI 2.0b, 2x DisplayPort 1.4 and USB Type-C Support, Patented Wing-blade Fans, NVIDIA Shadowplay and VR Ready. The ROG Strix GeForce RTX 2070 teams up NVIDIA's A-list GPU with an elite cast of specialists, setting the stage for epic gaming action. Gargantuan power delivery provides the muscle to push overclocking boundaries, while cooling that's honed to perfection keeps the spotlight squarely on Turing's performance. Backed by a 3 year ASUS warranty.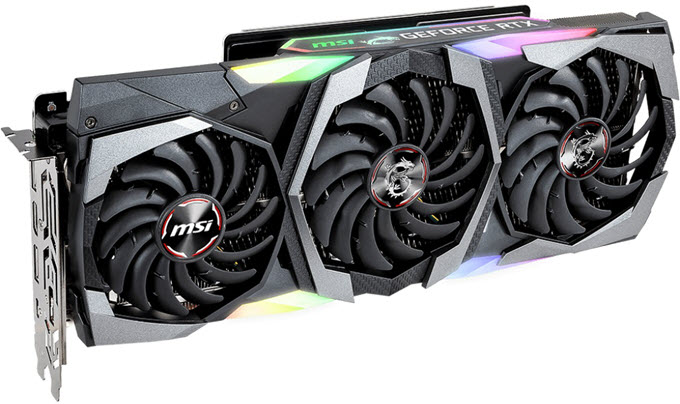 RTX 2080 and 2080Ti Benchmarked - Is it worth it??